My Personal Fitness Challenge at 50.
My Personal Fitness Challenge at 50. By Mazza Hilton.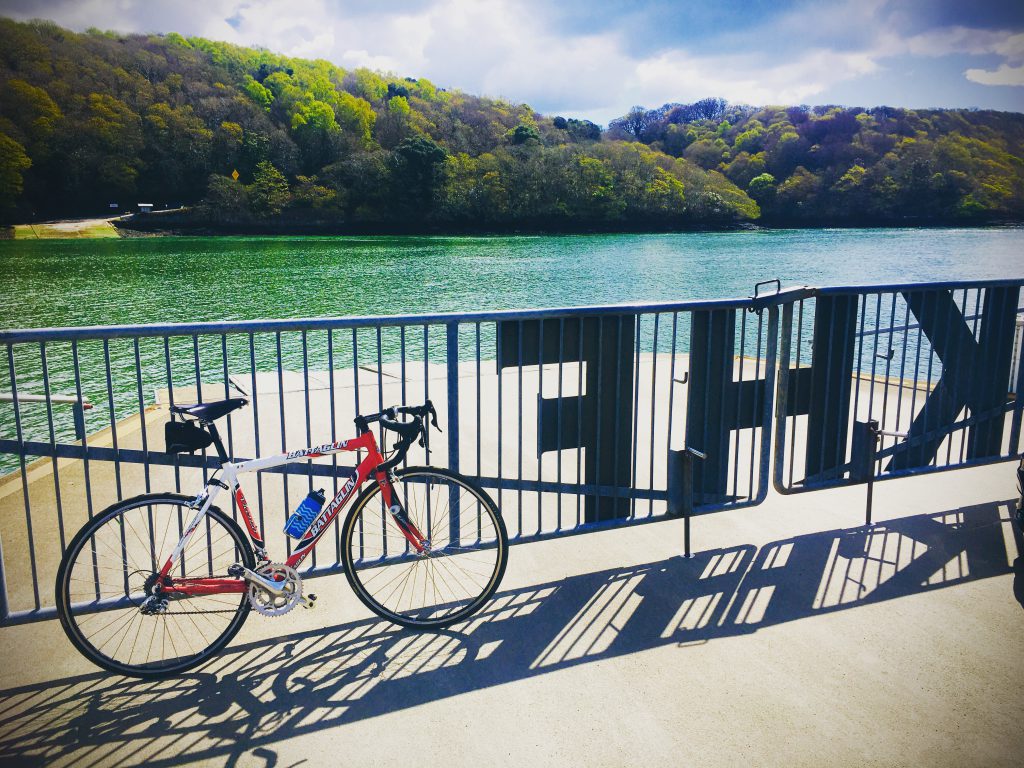 2020: OVER  50, OVER-WEIGHT AND UNFIT. 

 Throughout most of my adult life I managed to hold my waistline at 32-34inches. But amidst the 2 years of Covid-19 pandemic with all the close-downs, lock-downs (and ups and downs), I turned 50 years old, ruptured my calf muscle whilst jogging along the Bissoe Trail and had drunk far too much beer at home. When I found myself ordering a 39-inch waist pair of trousers and that I had gained nearly three stone in the nine months between March to December 2020. I knew it was time for a fairly hefty New Year's resolution. I set myself the following simple(?) challenges: 
Drop my weight from 14 stone 9 lbs to 12 stone. 
Cut out alcohol completely. 
Only eat fish and vegetarian food. 
I started by deciding that the steel road-bike that I'd always wanted back in the mid '80s (aged 13-15) would be my new steed. Why, might you ask, did it have to be a vintage rather than modern bike? Well, I figured it would be quicker to get fit with less gears! 
 February 2021: THE BIKE THAT STARTED IT ALL.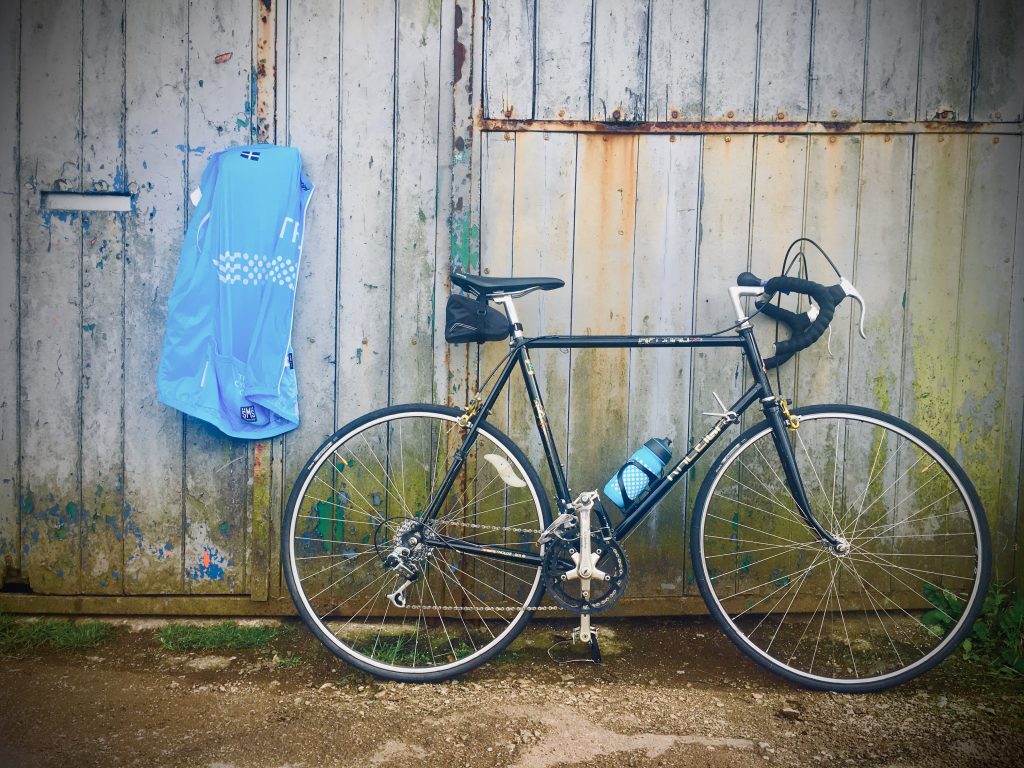 I purchased the classic steel road bike from Facebook Marketplace for £120 (a beautiful steel framed black/gold Reynolds 501 Raleigh Record Sprint from 1985). Then I bought a second-hand, French (very gaudy), purple and yellow shiny acrylic long-sleeved winter cycling jersey and some winter XL road-tights from Lidl (remember this is January in England). 
 Rewind to the late 1980s… During the years up to my mid-twenties, I had cycled everywhere. This always included the summer holidays wild camping  in the Cumbrian Lake District and the daily 20 mile round-trip commute to work and back. The heroes of my youth had been Merckx, Fignon, Lemond, Aryton Senna (Hence the JPS Lotus livery of my bike) and Niki Lauda. My favourite sports were, Cycling, Snowboarding, Formula 1 and Skeleton Bobsled. Everything that appealed to me was fast and if it was dangerous then even better!  
 So, I set to 'becoming' that road cyclist again, with my intention of cycling as fast as I could for as long as I could, age permitting. So rather than my usual odd couple of hours of light leisure riding with my youngest children, I began to plan routes of about 15km around my surrounding areas taking in; Bissoe, Gwenapp, Perranwell and Devoran. I also used the Strava and Komoot apps on my phone as my fitness level trackers. At first, I set off as fast as I could and imagined myself sprinting up the hill towards Perranwell Station. This didn't happen. My legs failed me miserably half way up the hill and I had to walk to the top. I could barely breathe after the first 5km, but if my epic failure did anything, it hardened my resolve and made me realise how ridiculously unfit I was. 
 The lack of beer was very hard to deal with in the first few months, but I used any time 'not drinking' to only further immerse myself in everything 'cycling'. I relearned how to service my now growing collection of bikes. The new diet aspect of the challenge fell into place as I began cycling every Tuesday during my day-off. I could feel my fitness level slowly increasing and I began to seek out ever steeper climbs. Whenever I could, I got out in the evenings for 10km-20km, gradually increasing the mileage until I realised that 60km was as much comfort as my skinny racing saddle could afford my sit bones.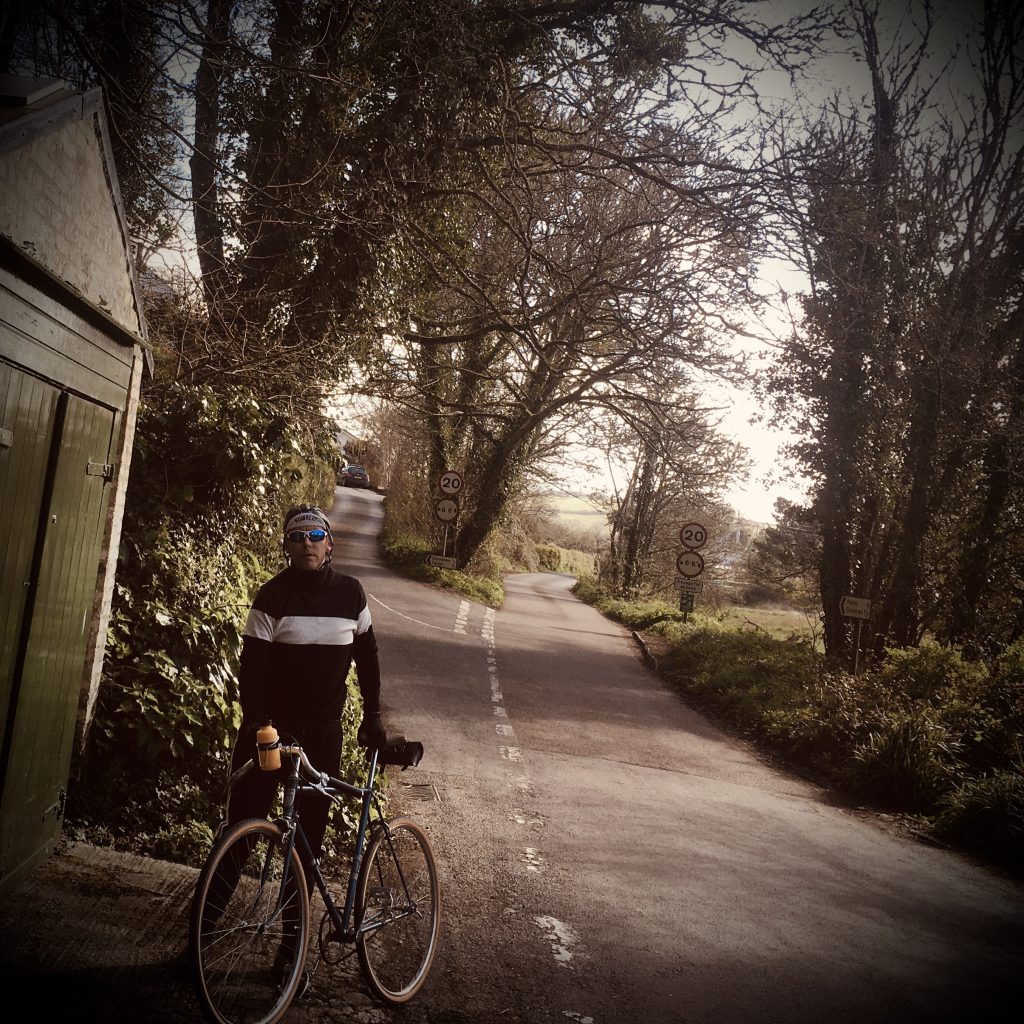 March 2020: EXPANDING MY HORIZONS 
I have always loved the wildness of Cornwall, and I also enjoy mountain-biking. Whilst being 'off-road', my excessive fitness drive took its toll on my old Raleigh Boulder (bought new in 1992) and it fell to pieces. So, I decided to buy another second-hand mountain-bike on Ebay and a 1970s Cliff Shrubb 531 Super Tourer (importantly it came with 1990s 2×10 hill gearing) both for renovation projects. 
April 2021: TRURO CYCLING CLUB 
 At the beginning of April, after randomly meeting Dave Bennett TCC Club secretary, and finding him friendly and happy to chat (whilst cycling up the steep exit road), on a crossing over the River Fal on the King Harry Ferry, I made the decision to join Truro Cycling Club. I had never felt the inclination to join a cycling club before, but I thought that the club colours of sky blue and white mirrored the kit of Manchester City, my favourite football team. My hunch boded well. It was one of the best decisions of my life. Road cycling can be a lonely experience sometimes, so it's always nice to have the shared experience with like-minded individuals and everybody I've met so far from TCC has been really nice and very welcoming. On my many journeys I was discoveringnew places, new people and many great traffic free circuits. I was loving my cycling reawakening and getting even healthier until disaster struck… 
June 2021: 'CALL 999'… 
On the night of 1st June , I awoke at 2am with a searing pain in my left chest area near my heart, the pain increased to the point whereby my wife had to phone for an ambulance (suspecting a heart attack). After the paramedics had diagnosed erratic heart beats, I was taken to Treliske Hospital, given some meds and morphine and kept on a heart monitor for 6 hours. 
When the consultant arrived, she sat with me, explained the monitor print outs, and asked if I'd ever been an 'elite athlete'! She had no medical explanation for my chest pain but informed me that my blood chemical results were all negative for heart attack and stroke conditions as were my chest x-rays and heart scans. She further divulged that my resting heartbeat was incredibly low at around 36-39bpm, and that this was consistent with the heart rate of a marathon runner or a professional cyclist! I chatted about my New Year's resolutions of sobriety, vegetarian diet and dramatic weight loss/cycling activities and was told to keep up the cycling and diet routine and that I was free to go. 
August 2021: LIVING PROOF 
Annual leave arrived and I found myself physically able to show a seasoned cyclist friend from Watford (on his family holiday) a 70km scenic route (my longest so far) around the surrounding area taking in Perranwell, Stithians Lake, Burras, Poldark Mine, Wendron, Mawnan Smith, Maenporth, Falmouth, Penryn, Carclew Estate and then Home.  
 I was 6kg lighter and hadn't had alcohol or eaten any meat for 7 months. Cycling had definitely had a positive effect on my health, happiness and weight loss. Initially, it was hard work; struggling up the hills, with shortness of breath and sore legs. But nowadays I don't ache so much, I can short climb hills much easier, I have met so many nice people along the way and I have seen more of Cornwall in 12 months on a bike than I have in 22 years of driving around in a car. 
 January 2022: EXACTLY ONE YEAR LATER… 
 I'm still cycling as much as possible, immersing myself in the 'Eroica' classic bicycle movement (I now own classic bikes from 50s, 70's and 80's) and trying to keep up my healthy lifestyle (although I did have a few too many  turkey dinners and a few too many drinks over Christmas). 
 Upon reflection, I can now say that cycling has been the perfect fitness activity to combine with a healthy diet, fresh air and sunshine and that it has given me an almost spiritual reawakening on my personal journey back to fitness. 
 Mazza Hilton