How to do tiling without going to B&Q
I think it all started (as many things did) at the beginning of lockdown #1. We were told to stay near home, so I couldn't go off on one of my countrywide (or Europe-wide) exploits in the campervan. Oh no, what to do?
I had already started using a website called veloviewer.com, which loads in one's data from Strava and gives far more stats than Strava itself does. Now, I'm not interested in my positions in Strava segments, but Veloviewer also has 'challenges' that involve exploring areas by bike. It does this by overlaying all your rides (downloaded from Strava) with the 'tile' structure used by OpenStreetMap (OSM – nearly all cycle route-finding apps use OSM). When you download maps to your phone etc, they nearly always come in tiles from OSM (unless you're using Google maps which is different). The tiles that Veloviewer uses (for its challenges) each cover about a square mile in the UK (because of the curvature of the earth, the tiles will be bigger nearer the equator and smaller further north).
Now, because I had been riding in Cornwall for a long time, I had cycled on most of the roads here – this was shown by Veloviewer as there weren't many 'blank' tiles (ones that I hadn't visited).
To give you an idea, below is my 'tile map' coverage of west Cornwall at the beginning of 2019: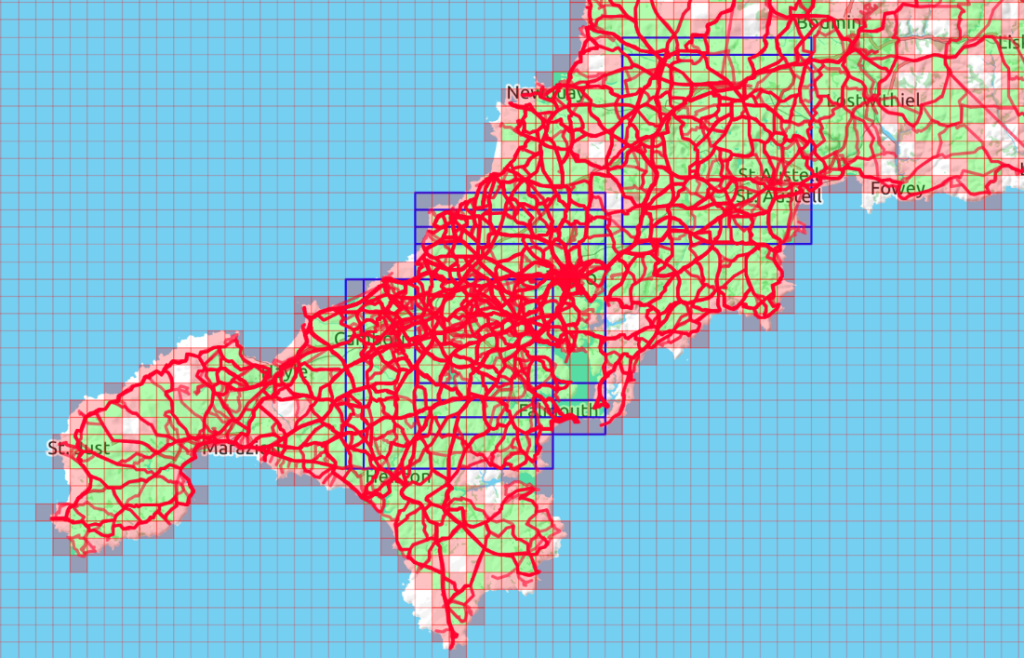 As you can see, there are plenty of empty holes (white tiles). Surprisingly, some are quite near Truro, which were easy enough to deal with without breaking Covid lockdown rules.
There are 3 different ways in which you can 'compete':
• Just increase the total number of tiles you have visited (these are shown by pink tiles in my maps). Although based on 'riding' tiles, it's 'OK' to walk or kayak them. Motorized transport not allowed – not sure about e-bikes though! Visiting a tile means maybe only going inside it by a few metres – it's feels more of an accomplishment, though, to ride right through it.
• Visit a greater number of tiles in the same area (i.e. explored the area more fully) by also visiting the four tiles adjacent to tiles you have visited (shown by green tiles in my maps). These tiles are all linked together (if they can be) to generate your 'maximum cluster' score.
• Making a 'Max Square' of tiles: shown by the large blue square outlines. More about this later but at this stage I have several overlapping ones, all of size 11×11 tiles.
So, here is my tile map for the same area as of September 2021, after I started tiling (for the sake of it). Apart from a few tiles around the coast (which I need to fill in with coast-path walks) I have filled all the others.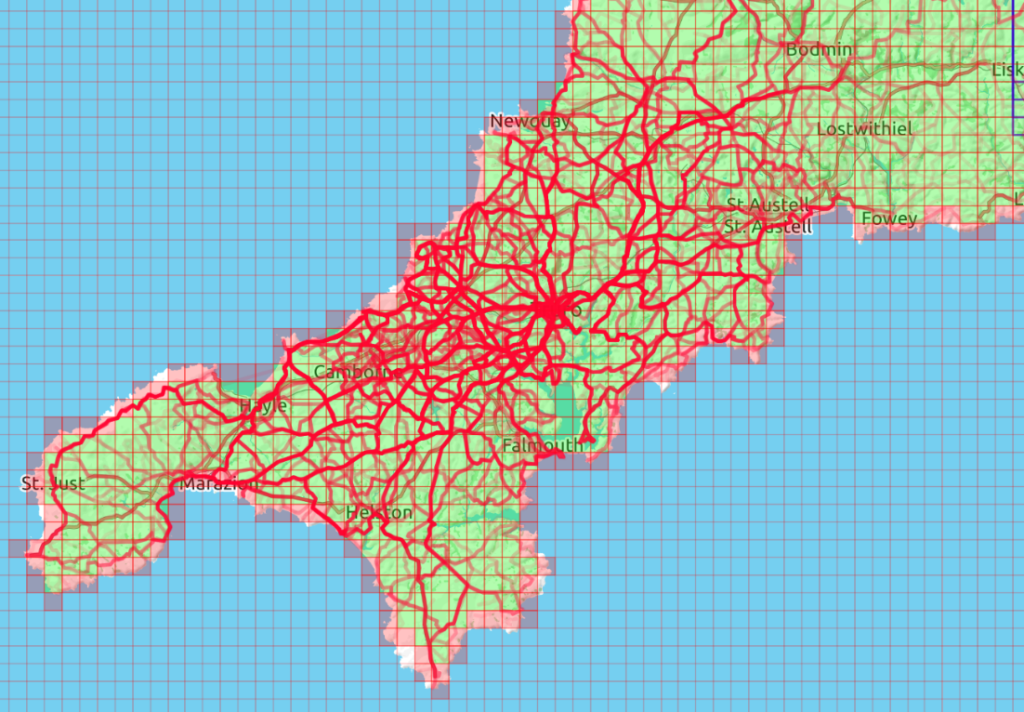 My max square can hardly be seen now, because it's got larger and moved almost out of frame (and out of county!). So you need to see what I've been doing on the Cornwall/Devon borders (below). The max square is now 19×19 tiles (in other words I have visited all the tiles inside those squares); I have 4 squares of the same size which overlap. To get it up to 20×20 I need to visit that elusive tile on the east of Bodmin Moor; I've now tried 3 times without success (private lanes, barbed wire, fenced off forest….). The remaining tiles on Bodmin Moor should be easy enough with a bit of hiking; the missing tiles north and south of my max squares will be easy enough once I have expanded the square east-to-west.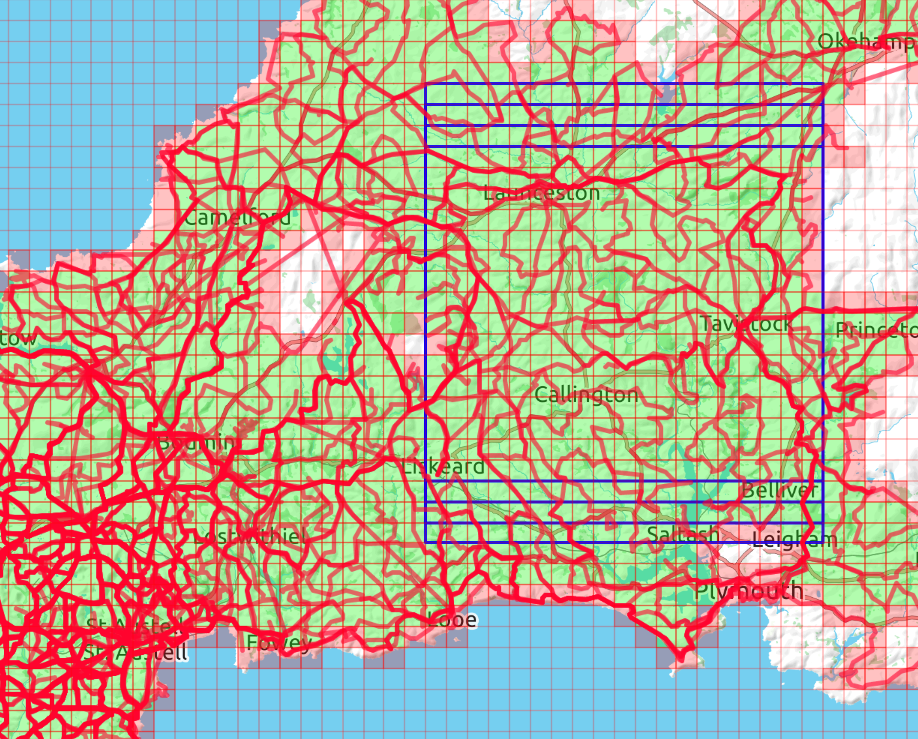 Some cyclists doing tiling (much madder than me) have much larger squares (even up to 100×100) – but they don't live in peninsulas.
Here's how I'm getting on with the rest of the West Country: large parts of Dartmoor and some of Exmoor will never be completed (not by me anyway). Bear in mind that any rides I did before 2013 (before I started using Strava) won't be represented. You can see here how the green 'clustered' tiles are linked: there's a thin line of them running NE from Exeter, to join my Devon tiles with my Somerset ones. Without this link the Somerset ones wouldn't be included in my cluster score (the apparent link in N. Devon isn't quite wide enough!).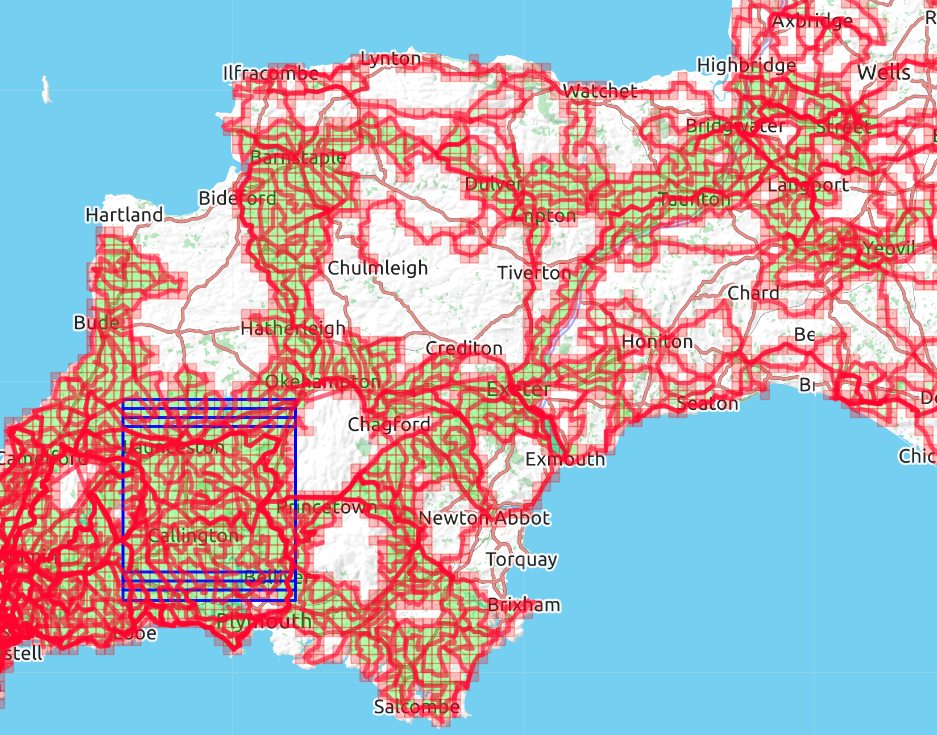 My scores on Veloviewer are currently:
• Total tiles visited: 25327 (16th amongst UK cyclists competing)
• Max cluster: 2751 (29th amongst UK cyclists competing)
• Max square: 19×19 (38th amongst UK cyclists competing)
I'm writing this while in France, so not adding at all to my max square or clustered area, just adding to the total number of tiles visited.
During my investigations with Veloviewer, I came across a thread in the YACF forum dealing exclusively with tiling (where you can read about other rider's accomplishments – and problems [most participants appear to be English or Dutch, not quite sure why, does it mean something about a common cultural behaviour?]). One post in this thread mentioned wandrer.earth which I didn't know about – that's another story, even more suitable for lockdown cycling if you aren't allowed to go far from home.
In summary, if you have been using Strava but given up (or never tried!) with KOMs, here's a whole new dimension that makes it all worthwhile. Maybe.
Further reading:
Veloviewer
Creates your tiles from your Strava data
RideEveryTile
More info about riding tiles
Strava 'Ride Every Tile'
Group
YACF (Yet Another Cycling Forum)
Thread about tiling (warning: 92 pages of posts!)
Wandrer.earth
For cycling all the roads in an area, not just quick visits to tiles
---
Chris Fearnley
Member since 1994